JAH CUTTA featured on All Skanadian Vol. 5
Stomp Records
It's been over 10 years since the last installment of The All-Skanadian series and nearly 20 years since the first All-Skanadian Club showed the world that the Canadian ska scene is one of the strongest and most diverse in the world.
Now, after more than a decade, Volume 5 is set to knock the world on it's ass and send a huge middle finger to every silly bastard who said that the genre was dead. This time around Stomp Records teamed up with the good folks from the Victoria and Montreal Ska Festivals to not only strengthen the scene but also seek out bands from far and wide.
When Stomp Records put out the call for submissions, nearly 50 bands immediately sent in tracks; which made the selection process extremely difficult to say the least. When the dust finally settled, twenty two stellar bands made the cut rounding out 69+ minutes of the very best ska jams around. From punky to 2tone to reggae to trad and back, there is something here for everyone.
Nearly every province is represented from coast to coast. Some of the bands are brand spanking new and some are grizzled veterans of the scene (including a never before heard tack from the mighty Planet Smashers!). Just take a look at the tracklisting for proof positive that ska music is more than alive and well in Canada. I double dog dare you to listen to this compilation and not shake your ass.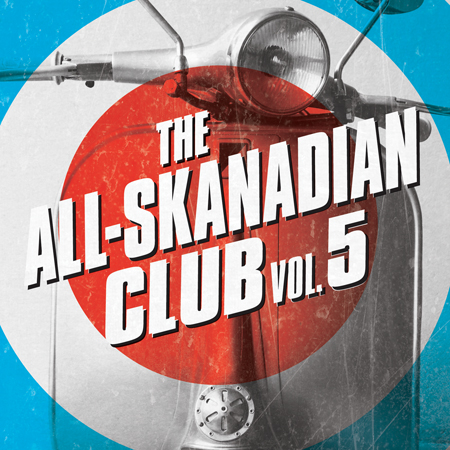 1- The Afterbeat – Rude Boy  
2- The Fundamentals – Leaving Me Behind 
3- Prince Perry & The Gladstones – Love At 
The End Of The Century  
4- Rude City Riot – Imposter Man  
5- The Planet Smashers - Hippopotamus  
6- The Beatdown - Beatdown  
7- Skavenjah – Cool Hearts Prevail  
8- The Real Deal – Rebel Chant  
9- The Harmonauts – Kick The Bucket  
10- Jah Cutta - Tribute  
11- Danny Rebel & The KGB - Fire 
12- Rocky Mountain Rebel Music – Man Down  
13- The Scarlet Union – I Am an Asshole 
14: Tartanglophones – Size Zero 
15: K-Man & The 45s – Oh Yeah Attitude 
16: Sound One – Kenshin 
17: The Thundermonks – Streetlight 
18: The Hangers – Just My Luck 
19: The Faceplants – Rollback! 
20: The Novamatics – Let It Out 
21: Los Furios – Tragedy 
22: Subb – On & On

---
Jah Cutta
A Me Dis
Already a formidable force on the national reggae scene, Jah Cutta's third album finds the singer/deejay better than ever. Easy, bubbling roots rhythms are the order of the day, with Bobby Digital back in the studio chair, but the album takes a few welcome left turns. Notably, "Fight You Down" throws the mould out the window, preferring a stripped down, ethereal dancehall sound, occasionally punctuated by beefy guitar shots — simply perfect. Elsewhere, Cutta provides more of the sort of nu-roots he's made his name on: catchy celebrations of Rastafari and Ethiopia ("Know the King," "Tribute"), sultry, R&B-inspired lover's rock ("Baby," "Girl"), drum-driven dancehall ("100%"), and social commentary on the violence in society made all the more pertinent by recent events on the streets of Kingston ("Serious Time," "No Gun"). But it's the rollicking "Cry" that stands out as Cutta's best work yet and one of the strongest reggae tracks of the year. Harkening back to Johnny Osbourne's Truths and Rights era, "Cry" is propelled by Cutta's husky, singjay style and will have you singing along long after the record stops.
... article from exclaim.ca
*Listen to the new track called "Fight You Down" from upcoming record "A Me Dis" mixed by Bobby "Digital" Dixon. Look forward To "A Me Dis" in early 2010!
* Has done 3 wildly successful, coast to coast Canadian tours since the release of What Gwan.
* Jah Cutta nominated for a Canadian Reggae Music Association award and a SOBA (Sounds Of Blackness Award).
* Wha Gwan was named one of the Top 3 Reggae Albums of 2007 by Galaxy Radio.
"Jah Cutta symbolizes stability, longevity and, of course, unspeakably brilliant musicianship" - The Star
"Canada's top reggae act" - Canadian Reggae Music Association
"...the effort payed off, with Wha Gwan proving to be a break-through record in Jamaica and Canada for Jah Cutta." - Vue Weekly
"...a collection of tunes that covers reggae's spectrum, from bass- heavy roots to riddim-driven dancehall. Not only do Montreal's dons of reggae provide a taste of everything, but fans will be impressed by the collaborations with saxophone king Dean "Cannon" Frazer, legendary producer Bobby "Digital" Dixon and reggae superstar Luciano." _ Montreal Mirror
"Jah Cutta est un ténor de la communauté reggae canadienne, infatigable depuis près de 20 ans. Sur Wha Gwan, le sage homme se pose encore des questions sur les raisons de la guerre, de la violence… Le propos contraste avec le fond musical, un néo-roots standard, léger, rigoureux, festif et joyeux." Nightlife Magazine
"His respect for the music and his reputation as a ferocious performer have earned him a place on stages before reggae royalty, like Peter Tosh, Gregory Isaacs, Buju Banton and, most recently, Toots and The Maytals." - World Beat Canada
Thanks To Everyone for making the last tour a huge success. Special thanks to Faction Skis and Sennheiser for their support.
February 10th, 2011
The Wailers and Jah Cutta and Determination Band




Try Jah love
Bugs Burnett





The Wailers - anchored by reggae icon Family Man Barrett (L) - will play Marley's entire Uprising album
photo: Courtesy Equipe Spectra


Reggae pioneer Family Man Barrett and Canada's King of Reggae Jah Cutta remember Bob Marley
Bunny Wailer may be the last living "Wailer" - Bob Marley died of cancer in 1981 and Peter Tosh was murdered in 1987 - but no one has done more musically to keep the spirit of Bob Marley alive than The Wailers' original bassist and bandleader, Aston "Family Man" Barrett, who continues to tour the world with new incarnations of The Wailers, featuring young musicians paired with off-and-on past members from the 1970s.
When Family Man sued the Marley family and Island Records head honcho Chris Blackwell for $100-million in back royalties, he lost his London High Court case in 2006.
"This is the man who co-created Bob's masterpieces in the 1970s," Grammy Awards reggae chair Roger Steffens - whom Bob Marley himself personally dubbed "Ras Rojah" back in 1979 - told Hour afterwards. "In reggae, bass is the lead instrument. It's not just rhythm, it's melody. Family Man invented those bass lines himself. Bob [also] gave the band 50 per cent of all his royalties because he knew they were co-creators, and that stopped the day Bob died. Rita [Marley] stopped paying everybody."
This week Family Man refused to discuss the case with Hour. "The past is the past and I've moved on and I'll be happy to help promote any future Bob Marley releases," says Barrett.
But Montreal reggae legend Jah Cutta - a.k.a. Carlton Williams, known coast-to-coast as Canada's King of Reggae - is having none of that. "He played bass for Bob all his life and I think the world needs to show [Family Man] more respect," Cutta says.
Cutta, meanwhile, last year released the best album of his storied 34-year career, A Me 'Dis(Stomp Records), mixed by legendary Jamaican producer Bobby Digital. Shortly after its release, his band's tour van crashed on an icy patch of Saskatchewan highway en route to Winnipeg. Cutta was thrown from the van when it crashed in a ditch and when he opened his eyes, he saw a native Indian standing above him."He deserves better than what he is getting today."
"He started praying in a different language I'd never heard before and I said, 'Pray for my friends!' When I looked up [again] he'd disappeared. The [triage] nurse at the Regina hospital told me the gentleman I saw is a pastor who passed away on that very [same dangerous] spot where he blesses [accident victims]."
Cutta has plenty of other stories too, like the time he shared a joint with Peter Tosh at Théâtre St-Denis in 1981. "After sound check he was smoking! My girlfriend told Peter, 'This is Jah Cutta! Give him a joint!' Peter replied, 'Do you know how much I paid for this? It's sensimilla!' Then Peter and I smoked. It was a special moment."
The Wailers
w/ Jah Cutta and Determination Band
At Métropolis (59 Ste-Catherine E.), Feb. 18